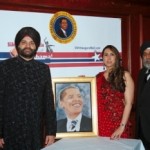 Lak Vohra hosted the Sikh Inaugural Ball on Jan. 20, 2009 to celebrate the Inauguration of Barack Obama.
The Sikh Inaugural Ball honored:
Charmaine Manansala, a Filipina-American immigrant, serves on the Presidential Inaugural Committee. She served as the National Director of the Obama for American AAPI Vote Team.
Sonal Shah, formerly with Google, now serves on the 15-member Presidential Transition Team.
Nick Rathod, National Outreach Director of South Asians for Obama and one of its founding members.
Arti Rai, a professor of patent law at Duke University, and a classmate of Obama at Harvard Law School
Miss Supreet Malhi, a Washington, DC-native who was a finalist in the World Punjaban Contest
From an article written by T.W. FARNAM:
What was the opening musical act of the Sikh Inaugural Ball held to celebrate the swearing-in of the first African-American president in the capital of the U.S.?
Well, bagpipes, of course.
Susi Taylor-Neumann, 19 years old, of Adelaide, Australia, blew "Waltzing Matilda" and more traditional Scottish songs for the heavily male and typically older crowd – and proved to be a big hit.[…]
"Sikhs came out in large numbers to vote for Barack Obama, so of course we are here celebrating as well," said Gurveen Kaur, the organizer of the event along with her husband, Lakhinder Singh. "We are a minority you know, and he's seen the same struggle as all of us." […]
Several singers took the stage and the Singhs raffled off a television and auctioned an Obama painting between acts. Nearly everyone in the joint took to the dance floor for Bhangra dancing and songs with heavy bass lines and hooks from Obama's speeches.